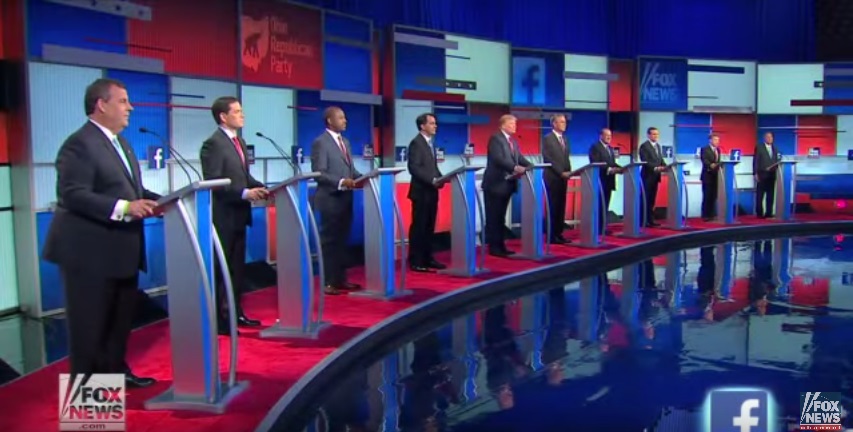 First, here's my scorecard from last night:
Losers: Paul, Christie, Kasich, Trump, Bush Winners: Rubio, Huckabee, Middle: Walker, Cruz (though no fault of his own), Carson #GOPDebate

— Benjamin Weingarten (@bhweingarten) August 7, 2015
Now to the takeaways:
1) The moderators did not delve into the core beliefs of the candidates. The Constitution itself was only raised in
one

question. Where's the beef?

Perhaps it is naive to think that this matters in a world in which identity politics, sound bites and snark frequently trump all else, but I found the debate sorely lacking when it came to giving candidates the opportunity to expound upon their political philosophies.

As a proxy for this point, guess how many times the Constitution was raised during the debate?

In the case of the moderators, only once, on a question from Chris Wallace to Gov. Mike Huckabee regarding his belief in Constitutional amendments banning gay marriage and abortion.

Only Senators Cruz, Paul and Rubio even invoked the Constitution.

I understand we are living in the Roberts/Pelosi era, in which the Constitution is selectively applied when not treated as a mere piece of parchment, but come on.

I also understand that the moderators were likely more concerned with drilling the candidates on perceived weaknesses and/or questions that would elicit compelling and/or viral responses.

And it's not lost on me that voters care most about how they are going to put food on the table, education and national security.

But for GOP primary voters, philosophy matters too.

Or perhaps I'm just an old fashioned conservative curmudgeon.
2) The moderators did not lay a glove on Sen. Marco Rubio or Gov. Scott Walker.
Was this calculated? Particularly interesting was that Sen. Rubio was not pushed at all on his support of the Gang of Eight immigration legislation even during a question explicitly about immigration.
3) Sen. Marco Rubio is good at being Sen. Marco Rubio.
That is, Sen. Rubio always comes across as polished, charismatic and likable. This is why in spite of his lagging poll numbers to date, if I were a betting man — as someone who will work to be perceived as the most "conservative" (in spite of his support of "Chuck Schumer's" Gang of Eight Bill as Sen. Ted Cruz deftly put it), "electable" candidate, who it is thought can pull in Hispanic votes (rightly or wrongly) — I would bet that the party will ultimately throw its weight behind him for the nomination. Of course I would add all the usual caveats about how early we are in the campaign, the fact that there is likely opposition research to be leveled at him (looking at you Gov. Bush), etc. It will be interesting to see how the poll numbers shift in the coming days, and where Rubio's support comes from as he rises.
4) Former Gov. Mike Huckabee is great on Iran, but not great on everything else.
He's a very good speaker, no doubt honed by his time in elective office and at Fox News. He is also no conservative beyond his Christian bona fides and solid foreign policy rhetoric. Nevertheless, Gov. Huckabee will likely have staying power through Iowa at the very least, which bodes poorly for Sen. Ted Cruz in particular, whose candidacy rests on being able to garner the support of Huckabee Evangelicals, Paul libertarians, Reagan conservatives and everyone else outside the "mushy middle."
5) Sen. Ted Cruz was frozen out for a large portion of the debate.
Nevertheless, he was on point when questioned, and was interestingly given some layup questions after the tired "Why are you tearing the country/party apart?" One wonders if his strategy is to simply state that he is the most conservative candidate as indicated by his efforts in the Senate, while letting the other candidates rumble until the field is whittled down and he can start making dramatic surgical strikes.